The opulent imagery and extravagant decor of the popular show Bridgerton have become one of the most sought-after wedding trends of 2022. Full of elegance, romance, and luxury, Regency-style wedding themes capture the glamour and enchantment of the early 1800s. It's hard not to fall in love with all the gorgeous florals, rich fabrics, elegant tableware, and posh furnishings. Whether you're a fan of the show or just a fan of unrestrained romance, the floral experts here at Griffin's Floral Design list the essential decor items you need to bring to life a Bridgerton-inspired wedding. 
How to Pull Off a Bridgerton-Themed Wedding

1. Location, location, location 
If possible, secure a venue with dramatic architecture, large ballroom-like spaces, opulent design details, and beautiful grounds. Look for columns, high ceilings, winding staircases, and classical architectural elements. For outdoor venues, ornate gazebos, lush greenery, stately buildings as a backdrop, and gorgeous views are a must. 
2. Handwritten Notes
Recreate the lost art of handwritten notes in a beautiful cursive script or calligraphy to reflect the Regency era. Use handwritten notes as place settings for your guests. You can also create elaborate invitations with gorgeous floral designs, gold leaf, embossing, and elegant font resembling handwriting – all closed with a personalized wax seal.  
3. Empire-Waist Wedding Gown
The women of Bridgerton wear beautiful empire waist gowns, which were popular at the end of the 18th century. The simple silhouette flows from a high-waisted fitted bodice that emphasizes the bosom and flatters curves. Today's empire-waist wedding gowns are simple and sleek, forgoing the traditional large petticoat underneath for a graceful, slim-fitting, and airy skirt. Feminine and dainty, these types of dresses are becoming a favorite among today's modern brides.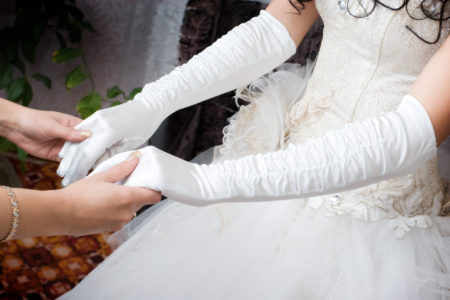 4. White Bridal Gloves
A perfect complement to empire-style dresses, white gloves give the bride a sophisticated and elegant look that would fit in with any Bridgerton ball. Coming in materials such as velvet, leather, and lace, beautiful long gloves are an opulent touch perfect for any glamorous bride. 
5. Jeweled Headpiece
Add refinement and bling with a sparkling tiara or crown. Whether it's a modern tiara with an art-deco style or a traditional diadem with plenty of sparkling jewels, these beautiful headpieces will look great in photos and can be passed down to future generations as prized heirlooms.  
6. Regency Blue Color Scheme
A beautiful, pale blue was the quintessential color of the Regency era. Soft and elegant, this particular hue pairs well with white and other soft, pastel colors. There are many ways to incorporate pale blue into your wedding palette. Have the bridesmaids wear pale blue dresses, decorate with blue drapery, or use blue table settings. For a lux, romantic look, include flourishing blue and white hydrangeas in your floral decor. Hydrangeas are excellent for creating lush centerpieces, table runners, flower walls, bouquets, and boutonnieres. Other lovely blue florals include delphinium, hyacinths, forget-me-nots, and stock.
7. An Abundance of Garden Florals
Lush and fragrant garden roses, lisianthus, hydrangea, peonies, dahlias, and more bring to life the gorgeous scenery of Regency-style weddings. Paired with lots of greenery, delicate, soft blooms in pastel shades of pink, lilac, purple, peach, blue, and white exude romance and elegance. From floral arches to centerpieces, dramatic table decor, and bouquets, an abundance of gorgeous blooms is essential to recreating a Bridgerton-inspired wedding. 
8. Wisteria
To mimic the gorgeous lavender blooms that adorn the homes in Bridgerton, drape wisteria vines on trellises, arches, or walls for a beautiful and very romantic backdrop. These fragrant, flowering vines are typically available during April and June. 
9. Vintage Tableware
Pretty floral-designed china plates and bowls are an excellent way to add timeless pieces of decor and vintage charm. Exquisite china tableware can usually be rented or found in second-hand stores for a great price. 
10. Overflowing Feasting Tables
Replicate the excess and decadence seen in Bridgerton by placing a large variety of sumptuous food items on tables for your guests to feast from. Also known as grazing tables, having an assortment of delectable delights appeals to all the senses and is sure to impress. 
11. Lanterns
Either metal or wood, lanterns are an excellent way to add a lovely enchanting touch to your wedding. White lanterns filled with hydrangea or other florals placed on tables are chic and elegant. Or, place a battery-operated candle inside lanterns and hang them from above to create a soft, romantic ambiance. 
12. String Quartet
Have a string quartet play classical music to represent the music of long ago and add sophistication and class to your wedding day. You can also make it a bit modern by having the string quartet play today's popular hits to get your guests dancing. 
There are many ways to create the opulence, luxuriousness, and elegance of a Bridgerton-themed wedding, beginning with the above ideas. Have the wedding of your dreams and recreate the beauty and sophistication of a Regency-era celebration. It's a day you and your guests will never forget. When it's time to select your wedding flowers, Griffin's Floral Design is the place to go for the best quality and most gorgeous blooms.